Remember tomorrow (March 29th) is Spring Pictures! (Pictures are Optional)

Just a reminder that today is the last day of school this week. We will resume on Monday, March 20th. Have a safe and fun break!

Thank you for donating to our school fundraiser! It has been a huge success! If you haven't donated yet, you still have time. It ends tonight. Thanks again everyone!

We want to hear about your experience with your student's education. We invite you to participate in completing the Utah School Climate Survey. This survey includes questions about your student's learning, school safety, and interpersonal relationships, as well as your attitudes about the institutional environment and your personal involvement in school. Your responses will be very helpful in improving student relationships, learning conditions, and the overall school environment. The survey includes questions specific to Iron County School District's goals and will help us implement changes. We encourage you to take the survey more than once if you have one child in elementary school and another child in a secondary school. By identifying the specific school you are considering in your responses, the district has a better idea of where it can focus on necessary changes or resources to better serve students. All your responses are completely anonymous. We have no way to connect you to your answers, and results will only be reported as group responses. There are no right or wrong answers. Please visit
https://irondistrict.sjc1.qualtrics.com/jfe/form/SV_4ZTwIayLfmcTFgG
to access the survey. You may also scan the QR code.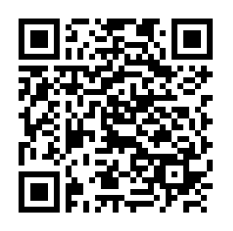 Three Peaks Elementary and the SUU STEM Center are hosting a family STEAM night Thursday, March 9th from 6-8 PM. There will be door prizes and fun for all family members. We hope to see you all there!

Parents, just a reminder that we will not have any school Monday 2/20 in observance of President's Day. Classes will resume Tuesday 2/21. Attached you will find information about registering Kindergartners for next year. If You have a child that will be attending Kindergarten in the fall please review that information. If you have any interest in enrolling your child in little league wrestling(PreK through 8th grade) Sign ups will be at the CVHS wrestling room on Feb. 20th and 21st at 5pm. If you have any questions about that you may contact Coach Lowry by Email at
dallas.lowry@ironmail.org
rmd.me/SQfbgseyMta

As forecasts call for continuing snow, Iron County School District reminds parents of the procedures the district will use when considering an altered schedule due to weather conditions. The decision to alter the schedule due to weather conditions will be made by the Superintendent by 6 a.m. If a change is made, parents will be notified via text message to numbers in the PowerSchool system. No contact will be made if the normal schedule is followed. Any change to the schedule will also be posted on social media and school websites. Please note, it is very rare that the weather in Iron County is so severe that action would need to be taken by the school district. The District will work closely with city and county officials as well as reliable weather information prior to making a decision to alter the schedule. Read more on the district website at
https://bit.ly/icsdweather

Information on how to sign up your child for Kindergarten (2023-24) is found in the NEWS section. Have a great day!

Parents, Just a reminder that school hours tomorrow (Friday- 2/3) will begin and dismiss at the normal Friday schedule times for all grades.

Today is the last day to submit entries for the yearbook cover contest! They will still be accepted until the end of the day.

Don't forget it's SEP Week!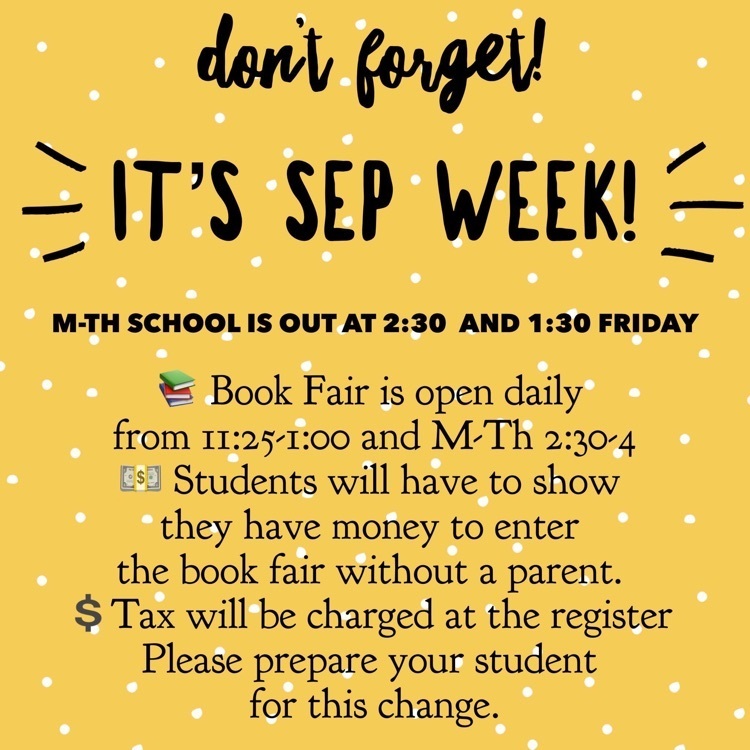 SEP Conference Week January 30-February 3 Kindergarten Schedule: AM: 8:45-10:45 (Monday-Friday) PM: 12:30-2:30 (Monday-Thursday) **Friday will be our normal Friday Schedule 11:30-1:30** 1st Grade-5th Grade: 8:55-2:30 (Monday-Thursday) **Friday will be our normal Friday Schedule 8:55-1:30**

The book fair is coming up! We need a lot of help! Please consider signing up for at least one or more slots available. The book fair will be during SEP week January 30-Feb 3. It will be held during lunch from 11-1:15 and after school from 2:15-4:00. Sign up here!
https://www.signupgenius.com/go/10C0E4CA8AD28A1FFC52-book
We need AT LEAST 3-4 people per session to help. You'll be helping with one of the following: -Register- checking kids out, scanning the items and taking payment -Entrance- making sure kids come in with money to spend and not just to wander -Kid help- help throughout the book fair for those kids who need help figuring out how much they can buy with the money they have -Behind the counter- helping reach the items behind the counter for sale We cannot pull off the book fair without you wonderful parents helping us out. We are so grateful for anyone willing to donate their time. Post any questions below! Thanks!!

Have a safe and wonderful break! School will resume on Tuesday, January 17th.


Our art teacher is asking for donations of yarn. It can be new or just left over yarn. The 4th and 5th graders will be starting weaving projects in February and will be weaving with yarn on some looms that were kindly donated to the school. Left over yarn will be used for future years as well! There will be a box in the front office to collect the yarn, or they can turn it into their teacher. Thanks!

Merry Christmas and Happy Holidays from all of us at Three Peaks! Please be safe and enjoy your break! School Resumes January 4th.

If you or someone you know is looking for a job, Three Peaks Elementary is hiring two Para-Professionals. For more information, go to the "News" section.

Reminder from the School Nurse: In an effort to keep our students and staff healthy at school, please remember to keep your child home if they are having the following symptoms: Fever, vomiting, diarrhea, severe/ persistent cough, undiagnosed rash or pink eye. They should remain at home until fever, vomiting and/or diarrhea have been resolved for greater than 24 Hours without the use of medication. If you have any questions you may call the school at 435-586-8871 and speak with the nurse. Thank you for your cooperation.

Apply to Be a Substitute Today!